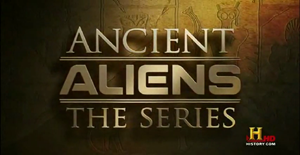 Welcome to the The Ancient Aliens Wiki
Edit
This wiki is dedicated to the Ancient Aliens series of documentaries, featured on The History Channel, and the theories and commentaries they espouse on the topic of extraterrestrial visits to our planet in the past.
Please add, and help us out, as you might see fit.
A Message
Edit
The greater part of the time, information in this wiki will be going up in bits and pieces, even within single pages. So feel free to help fill in the gaps. For now, there are apologies for all the incomplete and missing pages, however, we are trying to get everything up as fast as we can.
To Do List:
Add in Information to Missing Pages
Add Missing Pages
Add Pictures, or Videos
Add in Sources 
Latest activity
Edit