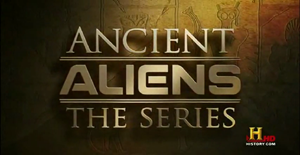 Welcome to the The Ancient Aliens Wiki
Edit
This wiki is dedicated to the Ancient Aliens series of documentaries, featured on The History Channel, and the theories and commentaries they espouse on the topic of extraterrestrial visits to our planet in the past.
Please add, and help us out, as you might see fit.
A Message
Edit
The Ancient Aliens Wiki is being resurrected under new administration. The community needs your help in adding content. Fans of the show who have access to all of the episodes, and have good writing skills are encouraged to contribute. Please visit the To Do page for more information.
Latest activity
Edit